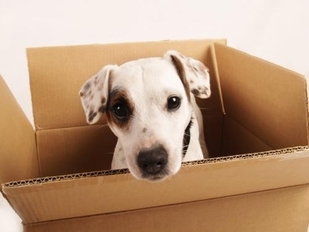 HALO Animal Rescue is moving our main shelter and base of operations in late December. HALO's life-saving work will now occur in a portion of the Maricopa County Animal Care and Control (MCACC) Durango campus here in Phoenix. Not only will this solve the problem of how HALO will continue to save 4,000 lives per year after the lease at our current facility is up in late 2013, but it will also be an opportunity to do more for the animals than ever before.
The most exciting thing about the move is that HALO Animal Rescue and MCACC have created a groundbreaking plan to save more lives together than they could separately, and at the same time provide improved standards of care for all the animals in the shelter.
"Would the animals want us to spend millions of dollars building a new shelter, or would they want us to think outside the box a little, so that money can continue to go directly towards saving their lives?"
-Heather Allen, HALO President and Co-Founder
Why we have to move
For the last 4 1/2 years, HALO has been the beneficiary of a low-cost lease at our shelter on 35th Avenue. Unfortunately, the property has been sold and the new owners will not allow HALO to renew their lease. This would have left HALO with no place to go to continue our work on behalf of our deserving pet population.
The search for a new home
As a result, HALO President Heather Allen and the Board of Directors started searching for a new place to house HALO's life-saving operations. We explored starting a capital campaign to raise the funds to build a brand new shelter for HALO. We explored sharing a facility with a local vet college. But the most promising opportunity came from another animal organization in our community, Maricopa County Animal Care and Control (MCACC).
Partnership with MCACC
HALO has worked with MCACC for years through their New Hope program, in which HALO and other no-kill shelters rescue animals in danger of euthanasia at MCACC's shelter. HALO has saved tens of thousands of lives this way over the years. In 2011, HALO partnered more closely with Maricopa County when they generously allowed HALO to rent 60 kennels at a very low rent.
In the fall of this year, MCACC sent out a request to the animal rescue community, asking for a no-kill shelter to work more closely with them in a partnership to save more lives than ever before. HALO answered the call and our proposal was selected by MCACC.
An opportunity to save more lives
If there's one thing that HALO knows how to do well, it's getting animals into their new homes lickety split. All the animals at the county shelter will now be able to benefit from some of the adoption-promoting strategies that HALO has learned, such as nice photos and online bios of adoptable animals, offsite adoption events, and more face-to-face adoption counseling.
Enhanced care for the homeless animals
Working together, HALO and MCACC will be able to provide all of the animals at the shelter with improved standards of care. How will the homeless dogs and cats of Phoenix benefit from this partnership?
-bedding for every animal
-more time to play with the volunteers
-more comprehensive medical treatments
-enhanced sanitation procedures
-toys for every animal
Current timeline of changes
12/17: Move announced
12/31: Final day of moving out of 35th Avenue shelter
Stay tuned for more information
Updates will be posted on this page, sent out in our monthly e-newsletter, and also shared on HALO's Facebook page.
Starting Jan. 1st, our new address will be:
HALO Animal Rescue
2500 South 27th Avenue
Phoenix, AZ 85009