The Arizona Humane Society has been in the news lately due to the story about the euthanasia of Scruffy the cat. Animal lovers in our community have responded with many questions... which shelters in the Phoenix area are no-kill? What does no-kill mean? How does the process work?
94,000 animals enter the shelter system each year in Maricopa County. That is huge, the second-highest in the country (after Los Angeles County).
The vast majority of these animals are strays and owner surrenders taken in at Maricopa County Animal Care and Control and the Arizona Humane Society, the two large shelters that don't turn away any of the animals that come to them.
Because neither of these organizations can care for the huge number of animals being brought to them each day, they must make the hard decisions. They have to euthanize their least adoptable animals.
Before animals are euthanized, Maricopa County Animal Care and Control and the Humane Society send out lists of the animals in danger to the no-kill shelters, like HALO, to see if we can take any of them in before they are put to sleep. These animals, the ones in danger of euthanasia, are the ones that HALO focuses on saving.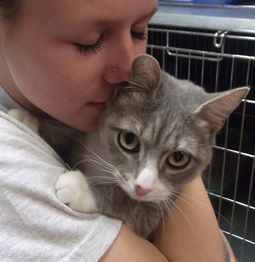 Our focus is on saving these dogs and cats because they are the ones in the most danger, the ones that have no hope left other than us. As a no-kill or "limited-admission" shelter, HALO only takes in the animals that we have the resources to care for. We rescue as many of the animals at the two big shelters who are in danger of being euthanized as we can, with kennels of adoptable animals lining every wall of our own tiny shelter.
As a no-kill shelter, we also would never euthanize an animal for a treatable or manageable condition. Euthanasia at HALO is a very serious decision, and in the rare case when it absolutely must be done, there are tears from staff and volunteers every time.
But right now, the no-kill shelters like HALO can't save them all. The Humane Society and Maricopa County Animal Care and Control, which are not no-kill shelters, euthanize approximatly 50% of the animals they take in. That's 47,000 sweet faces each year, 17,000 of whom are put down for having a treatable issue such as being too young to be put up for adoption, having an upper respiratory infection, or being too scared.
These animals deserved another chance at life and happiness and didn't get it. The urgent need to help as many of them as we can is what keeps us going.
With 3,520 adoptions in 2011, HALO had more adoptions than any other no-kill shelter in Arizona.
For a more detailed explanation of the challenges our shelter system faces, see the blog written by HALO's President and CEO, Heather Allen: Top Dog Blog
How can you help the animals?
1. Adopt your pets from shelters rather than breeders or pet stores
2. Spay and Neuter your animals
3. Commit to your pets for their whole lives
4. Volunteer and Donate to support animal rescues
Thank you all for keeping yourself informed!