To view this email as a webpage, go here
Community Adoption Event Results

Okay everyone, we have the TOTAL ADOPTIONS from the event for you...

312 dogs and cats found their forever homes at the PetSmart Charities Community Adoption Event!
AAWL adoptions: 94 dogs, 22 cats
HALO adoptions: 155 dogs, 41 cats
*Round of appaws*
Here are a few photos of the event, provided by PetSmart Charities:
Potential adopters line up before the event opens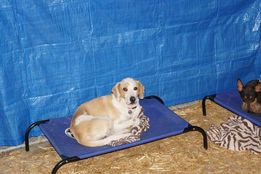 "Are my new mom and dad here yet?"
Checking out the potential adopters... "Who's here for me?"

First adoption of the day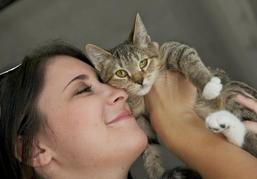 Lots of cuddling going on!
Thank you PetSmart Charities and an extra special thank you to all the volunteers who made this event possible! For more photos, see the PetSmart Charities event album on Facebook.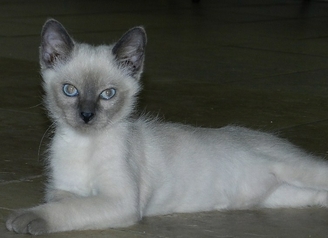 Duckie, a five-week-old kitten, was in terrible shape when she came to HALO. She had an ear infection which had been untreated for so long that her ears were raw. She was terribly underweight and malnourished. She was so weak that she could barely meow.
Duckie didn't have much of a chance... but we just had to try.

One of HALO's wonderful foster homes made room for Duckie in her home, and gave her the round-the-clock care she needed. Her foster mom gave her the name "Duckie" because of the sound she made when she tried to meow, which sounded like a quack rather than a meow. A few weeks later, after lots of meds, lots of yummy food, and lots of love, Duckie is now a normal kitten.
She's still not quite big enough to be put up for adoption yet, but soon enough she'll be on the prowl for her new forever home!
The Easiest Way to Help the Animals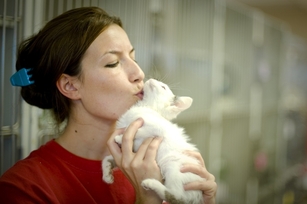 With automatic gifts to HALO Animal Rescue, you can provide steady support for the animals HALO has saved from the danger of euthanasia, in a way that's convenient for you.
Even $10 per month goes a long way… that will vaccinate a puppy or kitten to prepare it for adoption!
Join at the $25 per month level and receive a free t-shirt so you can show your HALO pride wherever you go.
Earn your HALO Angel wings and sign up today!
The $100,000 Challenge... How is HALO Doing?

Update on the $100,000 Shelter Challenge...
HALO is ranked 9th out of 50 shelters!
We've had 1,411 adoptions for Aug-Oct so far as of 10/23, so now we are OFFICIALLY going to get the $5,000 prize, yay!
Check out the ASPCA Challenge leaderboard to see how HALO is ranked.
The more adoptions we get, the more likely we are to win the amazing $100,000 prize for the animals at our shelter. See all the prizes we could win for the animals.
About the Challenge: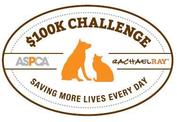 HALO is one of 50 shelters in the country vying for $100,000 for the homeless animals at our shelter.

The $100K Challenge is a competition that inspires shelters and their communities to come up with innovative ways to save at least 300 more dogs and cats within a three-month period than were saved during the same three months the year before. We've already saved more than 300 more...but now we have to save more than the other competing shelters to qualify for the bigger prizes! The challenge runs from August 1st until October 31st.
How can you help? The same way you can always help us save more lives... Adopt, Volunteer, Donate!
You can also Like HALO on Facebook and share our updates, so that the adoptable animals are seen by more people!
Mani just after arriving at the shelter
Mani (who was named Armani when he was at HALO) is a handsome Cockapoo (Cocker Spaniel/Poodle mix). He was surrendered to HALO by his owners, because one of the children in their family was diagnosed with cancer. It was a very difficult, emotional time for them. Although HALO usually focuses on saving animals in danger of euthanasia in the shelter system, HALO was happy to help this family by finding Mani a new home. HALO sent him to the groomer and got him all clean and fancy for his new home: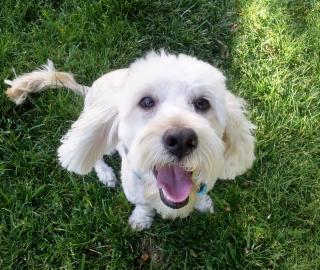 New haircut
It didin't take long before he was adopted into a wonderful new home. His new family sent us the cutest email, along with a couple photos:
"We wanted to let you know we are very, very happy with our new dog. He has the sweetest temperament, is well mannered, well trained and we could not ask for a better dog. Thank you for the work that you do in rescuing dogs like Mani. He has added a new dimension to our lives. We plan on traveling to the Phoenix area often over the next few years and know Mani will travel well with us. Thanks again."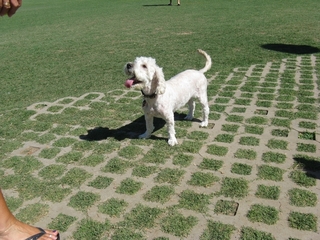 Mani a couple days after being adopted.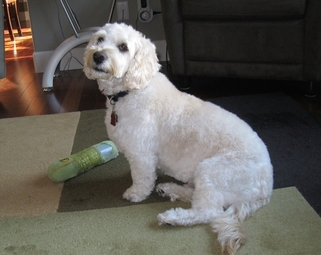 Mani now
If you have adopted an animal from HALO and would like to share your story too, please visit HALO's Facebook page, "Like" us, and post a photo on our wall! You can also email stories about your adopted animals to info@halorescue.org.
Don't Forget the Big Picture...
About 96,000 animals enter the shelters in Maricopa County each year. Approximately half of them leave alive.
The other half are euthanized. These are the animals that HALO focuses on saving. We take animals in danger of euthanasia at other valley shelters and give them love, care, and medical treatment, and then find them loving forever homes.
Our resources are limited to pay for their necessary vaccinations, antibiotics, spay/neuter surgeries, etc., so we can only save as many dogs and cats as we can afford. With support from our fellow animal lovers, we can afford to save more lives.
We are at the big shelters EVERY DAY, rescuing as many animals in danger of euthanasia as we can.

Gomer, one of the hundreds of animals HALO rescued this month
Total Adoptions Year to date in 2011: 2,597
Total Adoptions Year to date in 2012: 3,786
Thank you for supporting our mission:
Helping Animals Live On.