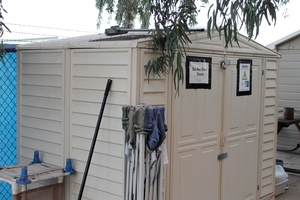 The only shed we have that will survive a move
As some of you have heard, HALO is going to be moving soon. HALO's lease is up in June of 2013. We are about 90% finished with our moving plan but we can't announce it until it's finalized. Stay tuned, we will definitely let you all know what the deal is as soon as we possibly can! There is one thing that we know we need help with in the meantime though.
We have lots of supplies for the 400 animals we care for at any given time. Those of you who have been to our 35th Avenue shelter have seen what we are currently using for storage. And some of you may have heard one of the sheds affectionately referred to as "the rat shed."
We need handy places, out of the elements and away from critters, to store the food, kennels, travel crates, clean laundry, kitty litter, toys, bedding, and other supplies that the animals depend on.
Cracks in the shed ceiling
The storage sheds are all in disrepair except for one. The sheds won't survive a move... they start falling apart when we try to dissemble them.
When we move, we will need four new storage sheds. We found a great deal on the kind of sheds we need, but we have to buy them all together to get the awesome discount. The total cost is $2,400.

Will you guys please help?
(write "sheds" in the comments section)
If we are lucky enough to receive more than the amount we need for the sheds, the rest will go towards other costs of moving the animals to their new home.