To view this email as a webpage, go here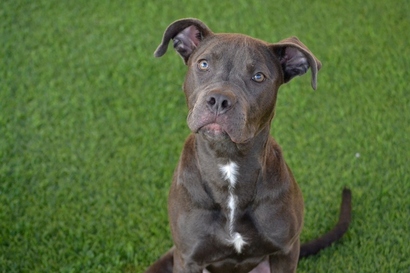 Sparticus is a blue American Pit Bull mix puppy who was turned in to the county shelter. His back leg and food appeared to have been caught in something like a trap, which severely injured his back legs. The photos of his injuries are too graphic to share. We were floored by the fact that he remained friendly, despite the pain he must have been in. And only three months old!
HALO took him into our care. He went into surgery at the vet to amputate his more severely injured back leg and also his other foot's toe and footpad. He was sweet as pie throughout his recovery. A month later, he required an additional surgery to amputate more of the severely injured back leg so that the partial limb would heal more fully.
Now, Sparticus is 6 months old and recovered from his second surgery. He has a bit of a funny walk, but he can still get around even with only, well, two and a half feet.
The other day, Sparticus went to his new forever home! We were so happy to send this sweet boy on his way.
First day at the vet
The leg with the bandage is his better leg, which he can walk around on when it's bandaged
Sparticus finally goes home!
Sparticus is a true warrior. He has had an amazing attitude throughout his journey. Over the last few months, he has grown bigger, but he has also "grown on" everyone here at the shelter.
You can Like HALO on Facebook to stay in the loop about how things are going with the individual animals at our shelter.
Save One More Life Today Than Yesterday

You guys know us. Our main goal is ALWAYS to save more animals' lives. But we can't do it without you.
Want to know exactly what your donation does?
Even $10 goes a long way… that will vaccinate a puppy or kitten to prepare it for adoption.
A gift of $25 will buy enough cleaning supplies and sanitizer to clean the whole shelter. This helps keeping the animals healthy and prevents the spread of disease between animals housed in the close-quarters of a shelter environment.
Buys 100 assorted toys, to keep homeless dogs and cats happy and having fun during the times of day they're in their kennels at the shelter.
$100 - Vaccinate 10 Puppies or Kittens
Provide all the necessary vaccines to ten of our little furry friends ready for their new homes. Your gift will provide protection from diseases like rabies, parvo, calicivirus, distemper, and more.

Help a dog or cat with a broken bone get back to their good old selves. A fractured limb is many times grounds for euthanasia at other shelters because of the cost of a repair and foster care time needed. This gift will save a perfectly wonderful dog or cat from that fate.
Thank you for helping HALO save one more life today!
The $100,000 Challenge... is OVER!

Aug, Sept, and Oct 2011 adoptions: 987
Aug, Sept, and Oct 2012 adoptions: 1,527
That makes 540 more lives saved this year during those three months! Yay!
Everyone at the shelter busted their rears to achieve that amazing increase in lives saved. Thank you so much to all the volunteers, staff, donors, and adopters who helped us along the way.
About the Challenge:
HALO is one of 50 shelters in the country vying for $100,000 for the homeless animals at our shelter.

The $100K Challenge is a competition that inspires shelters and their communities to come up with innovative ways to save at least 300 more dogs and cats within a three-month period than were saved during the same three months the year before. We've already saved more than 300 more...now we just have to see how our improvement stacks up next to the other competing shelters! See all the prizes we could win for the animals.
HALO is ranked 9th out of 50 shelters as of the end of month two, and they don't post the winners of the cash prizes for the animals until 11/30. Keep your fingers crossed that we win some cash prizes so that we can save more animals' lives!
HALO's 35th Ave Shelter now housing cats only

"I'm ready to go, too!"
As you may know, HALO's lease is up in June of 2013. We have some promising options for where our new headquarters will be, but nothing is final yet, so stay tuned for more updates on our moving plans.
However, we are starting to get the animals ready to move! The 35th Avenue shelter is now only housing cats, no longer any dogs. The adoptable dogs are now available only at our Deer Valley PetSmart Everyday Adoption Center and at HALO's building located at the MCACC West facility. This will help us have space for boxes to get all the animals' goodies ready to move!
Two Lives Saved: Hanz and Franz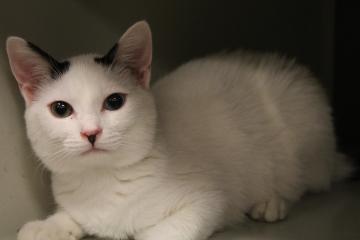 Hanz

Franz
These two cuties are brothers. HALO got them from one of the larger shelters in our community. They were in danger of being put to sleep for sneezing and having runny noses.
A lot of people don't know this about the pet overpopulation problem: in our community, any animal that is not immediately ready for adoption at the big shelters is in danger of being euthanized. Animals are put to sleep for ear mites, runny eyes, being too young, or being underage. We do everything we can to stop that from happening.
HALO rescues as many of these animals as we can. We give them lots of TLC and love while they're with us. Then the animal is prepared for adoption and we find them a loving forever home.
Hanz and Franz are still receiving treatment for their symptoms, so they aren't quite up for adoption yet. But when they are, our fingers are crossed that they'll go home together!
See the video on of Hanz and Franz playing together in the nebulizer on Facebook
(one of the treatments we use for animals with runny noses and sneezing)
While you're at it, take a look at the rest of HALO's Facebook page! There you can find lots of behind-the-scenes info, photos, and happy endings for the rescue animals.
Don't Forget the Big Picture...
About 96,000 animals enter the shelters in Maricopa County each year. Approximately half of them leave alive.
The other half are euthanized. These are the animals that HALO focuses on saving. We take animals in danger of euthanasia at other valley shelters and give them love, care, and medical treatment, and then find them loving forever homes.
Our resources are limited to pay for their necessary vaccinations, antibiotics, spay/neuter surgeries, etc., so we can only save as many dogs and cats as we can afford. With support from our fellow animal lovers, we can afford to save more lives.
We are at the big shelters EVERY DAY, rescuing as many animals in danger of euthanasia as we can.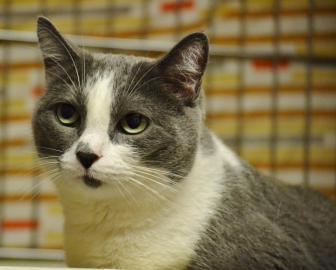 Princess, one of the hundreds of animals HALO rescued this month
Total Adoptions Year to date in 2011: 2,977
Total Adoptions Year to date in 2012: 4,047
Thank you for supporting our mission:
Helping Animals Live On.