To view this email as a webpage, go here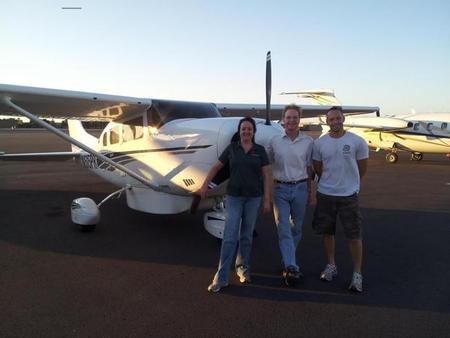 Heather Allen, HALO President, Dr. Peter Rork, Pilot, and Jonathan McDonell, HALO Special Projects Manager wish the puppies well before their flight 14,000 feet in the air
Inaugural Flight with Dog is My CoPilot
HALO has joined with an organization called Dog is My CoPilot to help relieve some of the pressure of the dog overpopulation problem that we see here in Phoenix... and you guys know which breed we're talking about. Chihuahuas! In some other communities, they have no trouble finding homes for small dogs like Chihuahuas as soon as they are ready for adoption... we wish we had more adopters here in our own backyards!
Since there are so many wonderful Chihuahuas and other small breed dogs facing euthanasia here in AZ, and so many willing adopters in other places (like Idaho, Colorado, Wyoming, Utah and many East coast states), the partnership between HALO and Dog is My CoPilot is a match made in heaven! DIMC flies dogs in a small plane from places of intense overpopulation to partnering shelters in other areas, where the number of families wanting to adopt a small dog outweighs the number of homeless small dogs.
The first flight took 18 friendly, ready-to-adopt Chihuahuas to the Idaho Humane Society. It is our sincere hope that we can continue to partner with shelters across the country to find more "out of the box" ways to adopt out more homeless pets. Here are some photos of their journey.
The crew stayed overnight at Heather Allen's foster house located at her home in Phoenix. It was an early morning for everyone getting up before the sun.
The sleepy dogs in their kennels on the way to the airport before dawn.
Twix is one of the 18 lucky guys that flew.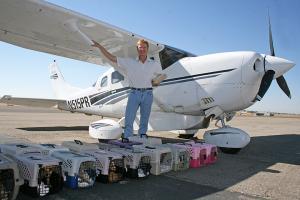 The dogs arrive in Idaho
We are hoping to make this into a regular thing!
Sponsor a dog's trip to their new home.
Have you visited the new adoption center yet?

The adoption center is now running at full speed! We have tons of dogs and cats available for adoption, and the hours and location are so convenient...
PetSmart Everyday Adoption Center
PetSmart Deer Valley (map it)
2901 West Agua Fria Freeway, Phoenix, AZ, 85027
(623) 492-9045

Open Mon-Sat 9AM to 8PM, Sun 9AM to 6PM

"Meet me at PetSmart Deer Valley!" -Bija

"Meet me at PetSmart Deer Valley, too!" -Mack
The new adoption center is:
-Close to the major freeways (I-17 and 101)

-Open during convenient hours (evenings, too!)
-Outfitted with meet and greet rooms so you can get to know your new friend
-Giving away a free bag of food with adoptions
Everyone is healthy, vaccinated, spayed or neutered, microchipped, and ready to give you a lifetime of love.
If you or anyone you know is looking for a new furry friend, send them to HALO's Adoption Center at PetSmart Deer Valley!

The $100,000 Challenge... How is HALO Doing?

Update on the $100,000 Shelter Challenge...
HALO is ranked 9th out of 50 shelters!
We've had 1,100 adoptions so far as of 10/12 out of the 1,287 we need. We are doing GREAT at saving more lives than last year... at the very least we are definitely going to get the $5,000 prize.
Check out the ASPCA Challenge leaderboard to see how HALO is ranked.
The more adoptions we get, the more likely we are to win the amazing $100,000 prize for the animals at our shelter. See all the prizes we could win for the animals.
About the Challenge:
HALO is one of 50 shelters in the country vying for $100,000 for the homeless animals at our shelter.

The $100K Challenge is a competition that inspires shelters and their communities to come up with innovative ways to save at least 300 more dogs and cats within a three-month period than were saved during the same three months the year before.
The challenge runs from August 1st until October 31st. We have to save at least 1,287 dogs and cats during those three months to qualify for any prizes, but we hope to save even more!
How can you help? The same way you can always help us save more lives... Adopt, Volunteer, Donate!
Results of HALO's Groupon

Groupon Grassroots recently featured a Groupon for HALO in an effort to raise $1,000 so we could save the lives of a mom dog and her four puppies. That's the cost of all the supplies, spay/neuter surgeries, vaccinations, etc. that the animals need in order to be prepared for adoption. The wonderful animal lovers of Phoenix (including many of you who get this newsletter) had an amazing response...
Total donated was a whopping $5,810. More than enough to save five moms and all their babies!
Vixey ,the first mom dog, and her puppies
Groupon is donated all the merchant fees, so the full $5,810 goes to the animals. Thank you Groupon, and thank you to everyone who bought a Groupon!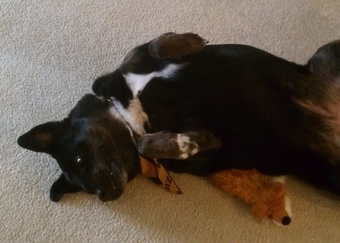 Kallie
We had to share with you the sweetest email and photo we received from the adopter of two HALO dogs, Maddie and Kallie.
"Kallie is definitely my protector. She will hear something outside and tears out the doggie door to investigate. I know she would protect me with her life. Maddie is just the opposite; she runs to me for me to protect her. They are both my pride and joy. Kallie is also very protective of my grandchildren when they are here. If they fall down she is right there to bathe them in kisses and make sure they are OK. I am sure she was a very good Mom. One reason why I got Maddie was because Kallie enjoys taking care of others. Maddie was young and Kallie helped her come out of her shell and learn that life is good and she is safe here.
Kallie is getting gray around the muzzle now and is on thyroid meds, but she is one of the sweetest dogs I have ever known. It may take a bit for her to trust new people, but once she does, she is forever loyal. I love them both so much and I am so thankful to HALO for saving them. I gave Kallie the name Kallie Grace before I even knew she would be my saving Grace. I can't imagine my life without her."
If you have adopted an animal from HALO and would like to share your story too, please visit HALO's Facebook page, "Like" us, and post a photo on our wall! You can also email stories about your adopted animals to info@halorescue.org.
Don't Forget the Big Picture...
About 96,000 animals enter the shelters in Maricopa County each year. Approximately half of them leave alive.
The other half are euthanized. These are the animals that HALO focuses on saving. We take animals in danger of euthanasia at other valley shelters and give them love, care, and medical treatment, and then find them loving forever homes.
Our resources are limited to pay for their necessary vaccinations, antibiotics, spay/neuter surgeries, etc., so we can only save as many dogs and cats as we can afford. With support from our fellow animal lovers, we can afford to save more lives.
We are at the big shelters EVERY DAY, rescuing as many animals in danger of euthanasia as we can.

Jasper, one of the hundreds of animals HALO rescued this month
We must be doing something right. Last year at this time, we had 2,405 adoptions. This year we've had 3,399...that's a 41% increase!

Thank you for supporting our mission:
Helping Animals Live On.