To view this email as a webpage, go here
The A.M. is the crazy time here at HALO Animal Rescue on the dog side, referred to affectionately as "Morning Mutt Madness."
Please let's go out to play now!
Staff and volunteers arrive at 8am. The doggies bark bark bark, so happy to see you!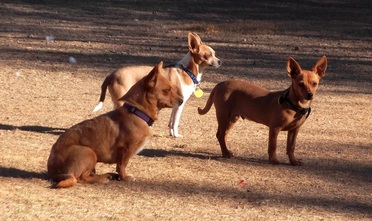 The dogs are leashed and brought out to the exercise yards.

The little dogs (mostly Chihuahua mixes) are carried out to the yards like little footballs of love.
Duke likes the play yard but he likes YOU even more!

We fill the kiddie pools with water for them to drink and play in, and we make sure they have some fun toys to choose from. The dogs that get along well all play together outside. The dogs that are picky about who they like get to play only with their friends in little outdoor play pens. The big dogs are separated into two groups in the two south yards, and the little dogs all play together in the north play yard.


A puppy who's too young to go outside gets some love from a volunteer

The dogs that are too sick, too scared, too young, or uncomfortable with the company of other dogs are walked individually by the awesome volunteers. This one-on-one time is so important for them.

Jared demonstrates that "football of love" Chihuahua hold

While the dogs are having fun outside, the cleaning frenzy on the inside of the shelter begins. Staff and volunteers scrub away at the kennels and change the bedding while their occupants are outside, making sure they're nice and clean and comfy for the dogs when playtime is over.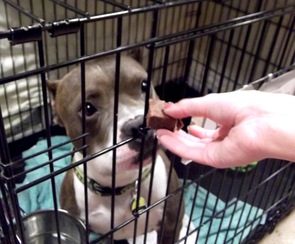 And don't forget my treats!

By about 11am when the shelter opens, the doggies are all back in their kennels and ready to eat their lunch, have their meds if they need them, have a little treat, and play with their chew toys while they wait to meet potential adopters.
Mornings are sometimes hectic here at the shelter, but we love it... because when things are busy we know we're saving lives at full speed!

Help HALO save a mom dog and puppies with help from Groupon! Groupon Grassroots is helping us in our effort to raise $1,000 so we can save the lives of a mom dog and her four puppies. That's the cost of all the supplies, spay/neuter surgeries, vaccinations, etc. that the animals need in order to be prepared for adoption. We have until September 30th to get to the $1,000 and if we get more, we can save even more animals' lives! We already have enough to save three moms and all their babies.
Go get your HALO Groupon and help us take advantage of this great opportunity to save more lives!
Groupon is donating all the merchant fees, so the full $10 goes to the animals.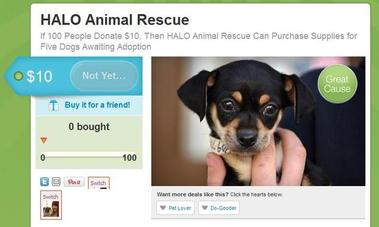 The $100,000 Challenge... How is HALO Doing?

Update on the $100,000 Shelter Challenge...
The first full month's rankings are posted on the leader board, and HALO is currently sitting at 19th out of 50. The thing that is holding us back a little is that last year, we had a huge number of adoptions in August and the contest is judged by how many more adoptions we do than last year. We did save more than a hundred more lives than last year though, yea! 938 adoptions so far as of 9/26 out of the 1,287 we need. At the very least we are definitely going to get the $5,000 prize!
Keep your eye on the ASPCA Challenge leaderboard to see how HALO is ranked after this month's awesome adoption numbers... we're hoping we'll be moving up in the standings!
We have to get 300 more adoptions in Aug-Oct this year than Aug-Oct of last year to qualify for the lowest prize which is $5,000. And the more we get, the more likely we are to win the amazing $100,000 prize for the animals at our shelter. See all the prizes we could win for the animals.
About the Challenge: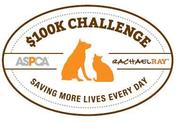 HALO is one of 50 shelters in the country vying for $100,000 for the homeless animals at our shelter.

The $100K Challenge is a competition that inspires shelters and their communities to come up with innovative ways to save at least 300 more dogs and cats within a three-month period than were saved during the same three months the year before. And by participating, HALO could win between $5,000 and $125,000 for the animals! Our staff and volunteers are excited to take a shot at saving more lives than we ever have before.
The challenge runs from August 1st until October 31st. We have to save 1,287 dogs and cats during those three months to qualify for any prizes, but we hope to save even more!
How can you help? The same way you can always help us save more lives... Adopt, Volunteer, Donate!
We just need to ramp it up because during these three months, not only will we be saving lives, but we will be qualifying for cash prizes to use towards the animals' care!
Many of you might remember Pear Bear. He was with HALO for quite awhile so we all got to know him pretty well... we were trying really hard to get him adopted because he was with us for six months. At HALO that's a very, very long time. The main reason Pear bear had trouble finding the perfect family is that he appeared, in a kennel environment, to be a bit temperamental. But there's unfriendly cats and there are cats that just need to get into a home environment. We knew that if someone just gave Pear Bear a chance he would relax a little bit and be a great pet.
He was even our website's "Featured Pet" for two months in a row and still hadn't been adopted.
Yes, we got to know Pear Bear pretty darn well.
But great news! Pear Bear was adopted at the coliseum adoption event last month! We just received the cutest email from the person who adopted him. Sounds like he's been doing great!
"Pear Bear is just doing SO great, I can't even begin to tell you! He settled into his home here right away (a lot sooner than I thought he would!) and now I don't even know what my house would be like without him.
I couldn't rename him, Pear Bear seemed to fit him just right--and he responded to it from the first day I brought him home. He's really the most wonderful cat. It was really magical watching him open up to me, and now he basically runs this house.
Thank you so very much for bringing us together. It seems like we're soul mates now!"
If you have adopted an animal from HALO and would like to share your story too, please visit HALO's Facebook page, "Like" us, and post a photo on our wall! You can also email stories about your adopted animals to info@halorescue.org.
Adoption Center Grand Opening Event Results

Drumroll please...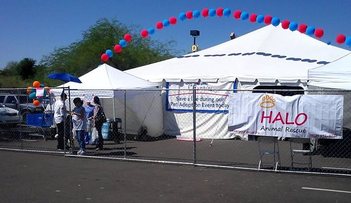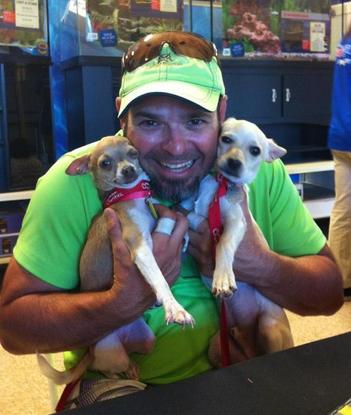 146 dogs and cats were adopted at the Grand Opening of HALO's Adoption Center at PetSmart Deer Valley!
Thank you so much to the volunteers who helped on that day, the adopters who took home a new family member, and PetSmart Charities for making the event possible! Great job everyone!
Thank you so much to the donor who gave us all we needed to purchase new camera #1!
The new camera is working so amazingly. There is a huge difference in quality between our old adoption photos and the new ones. See the difference it made for Mimi...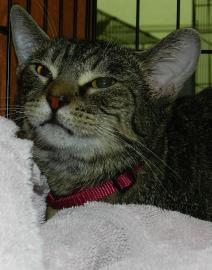 Mimi's photo before

Mimi's new photo
Can you chip in towards camera #2? We have multiple locations and we need to be able to take photos of the adoptable animals at each one. We have $80 towards the second camera but we need a total of $550.
This really does help the animals get adopted faster... the online photos of an animal are what get potential adopters up off their butts and into our shelter lobby!
Can a few of you please help?
Make a donation towards a new camera for the animals' adoption photos on our donation page and write "camera" in the comments section.
Thank you for your support!
To see more photos taken with the new camera, go to the Facebook album, or check out our adoptable animals!

(If more that the $430 needed for us to buy the second camera is given, the rest will be put towards the animals daily care such as bedding, transportation, vaccinations, spay/neuter, etc.)
Don't Forget the Big Picture...
About 96,000 animals enter the shelters in Maricopa County each year. Approximately half of them leave alive.
The other half are euthanized. These are the animals that HALO focuses on saving. We take animals in danger of euthanasia at other valley shelters and give them love, care, and medical treatment, and then find them loving forever homes.
Our resources are limited to pay for their necessary vaccinations, antibiotics, spay/neuter surgeries, etc., so we can only save as many dogs and cats as we can afford. With support from our fellow animal lovers, we can afford to save more lives.
We are at the big shelters EVERY DAY, rescuing as many animals in danger of euthanasia as we can.

Crissie, one of the hundreds of animals HALO rescued this month
Adoption numbers so far for 2012 are... just, wow! We're doing so much more for the animals this year than we could last year. Last year at this time, we had 2,318 adoptions and this year we've had 3,313...an incredible 43% increase in lives saved!


Thank you for supporting our mission:
Helping Animals Live On.