To view this email as a webpage, go here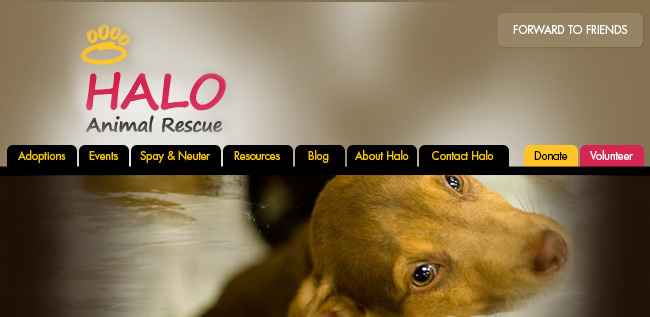 What Do the Cats and Dogs in Our Community Face?

About 100,000 enter the shelter system in Maricopa County each year.
Approximately half of them leave alive.
The other half are euthanized. Thousands are put to sleep every year for being scared, for having a runny nose, or for being too young to put up for adoption.
These are the animals that HALO focuses on saving. We take animals in danger of euthanasia at other valley shelters and give them love, care, and medical treatment, and then find them loving forever homes.
Our resources are limited to pay for their necessary vaccinations, antibiotics, spay/neuter surgeries, etc., so we can only save as many dogs and cats as we can afford. With support from our fellow animal lovers, we can afford to save more lives.
Every day, we rescue as many animals in danger of euthanasia as we can.
Our passion is to do whatever is in our power to save as many of their precious lives as possible. If we work together, we will see the day when no animal in Phoenix is needlessly euthanized.
What Does HALO Do For the Animals?

Love
The care that the animals receive at HALO is the same as we all would give our own animals. Once they're with us, they get lots of love and we care for them as long as it takes to find them a new home. (We do want them to go to a home environment as soon as possible though.. it usually only takes a few weeks!)
Medical Care
Most of the animals we care for come to us needing some medical care. We work with local vets to provide low cost, high quality care for the animals. We also ensure that every animal is vaccinated, microchipped, and spayed or neutered.
Playtime
The volunteers have a great time each day giving the dogs one-on-one walks, brushing the cats, throwing tennis balls, and letting the cats chase feather toys. This positive socialization time heals the animals' physical and emotional wounds and prepares them for their bright futures.
A Happy New Home
Adoption counselors help people who want a new furry friend find the perfect pet for their family, home, and lifestyle. All our hard work and passion is to culminates in this final moment... when the animal finds its forever home.
To hear the purr. To see the wagging tail. To see the animal walk out the front door of our shelter with their new family looking so happy. To know that that animal, which was once so close to euthanasia, will have a good life and receive the love they deserve. That's what makes it all worthwhile.
With So Many Rescues... What Makes HALO Special?

HALO saves more lives.
We had more adoptions in both 2011 and 2012 than any other no-kill shelter in the Phoenix area.
HALO gives every animal loving care.
The dogs get individual walks, group playtime outside, love and fun from the volunteers, and treats. The cats are brushed, petted, and played with. Everyone gets clean food and water, soft beds, and of course...toys!
HALO is efficient.
Our budget of 1.46 million saved 4,730 lives, meaning our cost per animal is only $309. This number is really really spiffy, especially for a no-kill shelter! It means we do more for the animals with less.
HALO is growing like crazy.
We are always changing and adapting, finding new ways to save more lives, and pouncing on the opportunity like it's a piece of string being dragged across the carpet. Last year we saved 1,210 MORE lives than the year before! That's a 34% increase in just one year!
The dogs and cats need people like you step up and decide to be part of the solution. Look into your pet's eyes... they are no different from the other loving faces that are put to sleep every day in our community. It doesn't have to be that way. Be the voice for those animals who have no one else on their side!
Be their home sweet home. Browse our adoptable animals, and if there's a good fit, you could bring a new family member home today!
Spend a little of your free time with the dogs and cats at our shelter and help save lives. Check out our volunteer needs: playing with the animals, taking pictures, cleaning kennels, walking dogs, and more.
The love we give is free and comes from the heart, but the animals' care costs money. Make a gift to the animals and help HALO save one more life today than we could yesterday.
Talk to your friends and family members about the importance of responsible pet ownership (including spay/neuter), adopting pets from shelters rather than pet stores or backyard breeders, and about helping animal rescues. "Like" HALO's Facebook page and help get the word out about our adoptable animals and the goings-on at the shelter.

Thank you for your support of our Mission:
Helping Animals Live On.