About 96,000 animals enter the shelters in Maricopa County each year. Approximately half of them leave alive.
The other half are euthanized. These are the animals that HALO focuses on saving. We take animals in danger of euthanasia at other valley shelters and give them love, care, and medical treatment, and then find them loving forever homes.
We rescue as many animals in danger of euthanasia as we can. In addition to the huge number of animals we adopt out, we also helped save 75 additional lives in 2012 by transferring animals to other rescues for adoption.
Saving lives is our mission and our passion!
Our resources are limited to pay for their necessary vaccinations, antibiotics, spay/neuter surgeries, etc., so we can only save as many dogs and cats as we can afford. With support from our fellow animal lovers, we can afford to save more lives.
You can help the animals by Adopting, Volunteering, and Donating.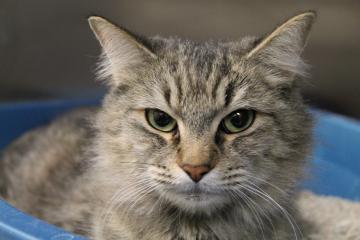 Jazzell, one of the hundreds of animals HALO rescued this month
Total Adoptions in 2011: 3,520

Total Adoptions in 2012: 4,738

That's a 34.6% increase over last year. An incredible achievement!
Thank you for supporting our mission:
Helping Animals Live On.