Kai Kai Needs A Home!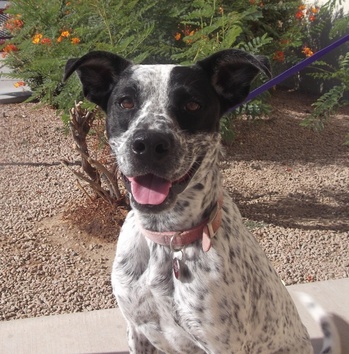 Kai Kai has been at HALO for quite some time...despite her lovely smile!
"Hi, I'm Kai Kai! I'm 2 1/2 years old and I'm a Boxer and Australian Cattle dog mix, with a pinch of Parson Russell Terrier also... with the DNA test to prove it! Because of my particular mix of breeds, I have lots of energy! True to my Boxer roots, I love to jump up and wrestle. True to my Cattle dog roots, I love to be useful and out and about with my family. And true to my Parson Russell Terrier roots I am very treat-motivated and smart, and I learn tricks and commands easily. I already know some basic commands such as sit and shake!"
Maybe you or someone you know is a hiker, jogger, or has a lot of play-time on their hands?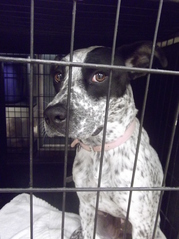 Kai Kai in her kennel, a little sleepy after a big lunch.
Kai Kai in the shelter lobby, staring lovingly at the receptionist.
"I would love to go home to a big yard where I can get lots of play time. I play well with other dogs, unless they're very dominant. I love to fetch and will even jump into the air to get a ball. Getting me lots and lots of toys to play with will keep me happy and entertained. I have been in a home with kids who I absolutely love, but I do get a little rambunctious when I'm excited, so it would be best if I went to a home with older children. I love to go hiking and my last dad would even have me pull him on the skateboard which was so much fun! My last family says I am house trained and used to sleeping in my kennel at night. In a home environment I know not to bark unless there is a good reason to, but at HALO I do bark while in my kennel so when you come to meet me please give me a chance to introduce myself outside. Will you make today my lucky day?"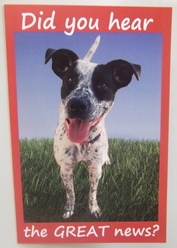 Kai Kai is a star! Her mug is featured on the front of our donation cards.
She has been at HALO's shelter since February of this year. As much as we love her to bits, it's time for her to find a real, permanent home! Her adoption fee has been reduced to only $25, which includes her vaccinations, spay, dewormers, microchip, collar with tags, and a big black and white speckled bundle of love and entertainment!
See Kai Kai and the other dogs up for adoption on our website.