Wilbur's Halloween Pet Safety Tips
Scary People at the Door
"I like strangers normally, but when they come to my door dressed like Frankenstein, I get a little freaked out. Frankly, I'd prefer it if you just kept me in a quiet room of the house with soothing music, food, water, and a few toys. There I can meditate and pretend there aren't monsters at the door talking to my mommy.
Also, your cat Fluffkins, the bane of my existence, might escape with all the opening and closing of the door. So keep Fluffkins in a separate room too, to keep her safe. If she did escape, I would be happy to help you out and eat all the cat food. She's microchipped, right? No? Microchip her! It's only $25 at HALO and includes lifetime registration."
Food that Looks Yummy but Ends Up Making You Run In and Out of the Doggy Door All Night
"Why my mommy chooses to give treats to scary monsters on Halloween instead of giving them to me is beyond bizarre. Well I guess there was that one time... I ate that squishy thing in the shiny wrapper. I must have run out the doggie door ten times that day. Maybe that's why the humans don't share their human treats with us dogs. Maybe they don't want me to get a tummy ache, or worse! Oh well. The silver lining is that whenever humans eat tons of their treats, they always seem to want to take me on a few extra walks."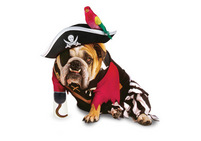 "Does it LOOK like I'm enjoying this?"
Humiliation and Discomfort, or Fun Times For the Ham-Dog?
"A dog in a Halloween costume is almost as cute as a baby in a costume, or your aunt Mildred in a costume. Some of us are crazy ham-dogs that love the extra attention, or completely oblivious to whether we're wearing one. Some of us prefer a festive collar. Take home message: don't dress me up unless I'm cool with it. And if you do dress me up, don't leave me unsupervised in my costume. Those things can be tempting to snack on."
Candles, Jack-o-Lanterns, and Other Twinkly Things
"Pets have not harnessed fire like man has. In fact we are barely aware that fire exists. Some of my big-dog brethren like to whip their tails around crazily, and some of my cat friends like to pounce on things that flicker. So keep an eye on candles and other Halloween twinkly things, because WE sure as Halloween aren't!"
Halloween doesn't have to be scary for us. While you're having fun celebrating, keep your furry friends in mind!
HAPPY HALLOWEEN!
P.S. Wilbur (and his brother Orville) are up for adoption under our Barktoberfest Special! Name your price!