HALO Animal Rescue Prepares for a Feline Frenzy …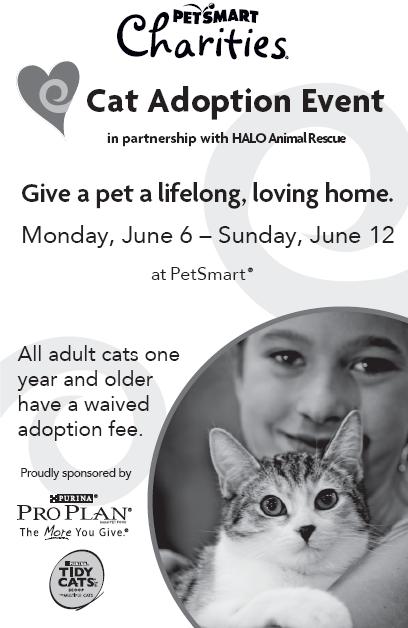 June is Adopt-a-Shelter-Cat Month; and with only 22% of owned cats in the U.S. coming from shelters, we are hoping to entice potential adopters with a purrfect cat adoption special.
Beginning June 6 and running through June 12, adoption fees will be waived for all felines ages 1 year and older. Pet parents will be encouraged to make a donation to HALO on behalf of their newly adopted feline family member. The no-kill shelter spends approximately $345 on each animal in their care.
While this special takes place for just one week, HALO is also offering reduced cat and kitten adoption fees throughout the entire summer. From June through August, cats 1 year and older will be available for $50 (this excludes the week of June 6 -12, when there will be no adoption fee for cats 1 year and older) and kittens (under 1 year of age) will be available for $110.
In addition to the shelter at 5231 North 35th Avenue in Phoenix, HALO has adoptable cats at the following locations:
PetSmart Luv-A-Pet Adoption Centers:
1949 E. Camelback Road, Phoenix
17035 N. 7th Avenue, Phoenix
3855 E. Thomas Road, Phoenix
1745 W. Bethany Home Road, Phoenix
16257 N. Scottsdale Road, Scottsdale
7077 E. Mayo Boulevard, Scottsdale
21001 N. Tatum Boulevard, Phoenix
7290 W. Bell Road, Glendale
2901 W. Agua Fria Freeway, Phoenix
555 S. Cotton Lane, Goodyear
PETCO Stores:
10190 West McDowell Road, Avondale
6090 West Behrend Drive, Glendale