To view this email as a webpage, go here
Cats Rescued from Hoarding Situation

Last week, HALO staff became aware of a hoarding situation that has not yet been addressed by local law enforcement or by the big national rescue groups. The animals at this home are in an unclean environment, and both common and severe medical conditions are being left untreated. Many of the cats are stained with urine.
Of the approximately 180 cats at the house, HALO staff took in the six cats that were in the worst shape... which was all they would let us take. Without legal authority, at this point all we can do is help with as many animals as they will let us.
HALO staff provide immediate basic care to Stanley, one of the rescued cats. He was suffering from kidney failure, emaciated body condition, rotten teeth, mouth abscesses, and severe upper respiratory infection.
Duncan's feet (which should be white)
Fifel, who we are treating for fleas, an ear infection, rotten teeth, abscessed mouth, and a dewclaw grown out all the way into the foot pad. She has been spending most of her time quietly relaxing while she heals, finally getting the care she has needed for quite some time.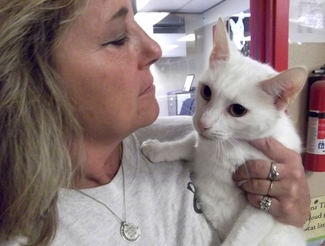 Coconut, who we are treating for mouth abscesses, stomatitis, and ear infection. He is an extremely loving and playful guy... can't get enough of the feather toy!
There are more animals there that we cannot save until the police get involved. Our main goal is usually rescuing animals in danger of being euthanized in the shelter system, but we had to do our part to help as many of these animals as we can in the meantime before the authorities get involved. We are doing everything in our power to get things moving so that these animals, and these people, can get more help soon.
We are hoping to go back to rescue more, but at this early stage, the only animals we can save are those that the people will let us take.
As you can see, each of these cats will require medical care beyond what the average cat needs in order to heal them and prepare them for adoption. If you would like to make a donation towards their medical care, visit our donation page and please make a note that it is for the hoarding cats.
If we receive more than we need for the cats from the hoarding situation, we will apply it to the cost of the care of the rest of our animals in need.
We will keep you updated on how the situation progresses.
Here's the news story about the break in on Monday night... the third robbery this summer:
Fox 10 News Story (with Video)

AZ Family News Story (with Video)
At about 2 A.M., the front window at HALO Animal Rescue was smashed by a rock and the cash register broken open. The security guards at neighboring GCU noticed the commotion and the police were called. We are told that the police have a likely suspect in custody.
The thief did not enter the building, but jostled the cash register up next to the window, where they broke it open. Luckily, the cash register is kept empty overnight for security. Staff and volunteers arrived in the morning to find the window smashed, the cash register broken, a computer missing, and the reception area a mess of broken glass.
"This is painful for all of us here at HALO," remarked HALO President Heather Allen. "Every day our staff and volunteers work tirelessly for the animals, putting in so much time and love so that we can save the lives of dogs and cats. The idea that someone would try to steal from homeless animals is hard to comprehend."
This is the third time HALO has experienced theft this summer. In April, the donation box at the front desk was stolen. Then a week later, thieves broke into HALO's parking area, hotwired HALO's truck, and drove it through the fence, destroying it and making off with the vehicle.
HALO doesn't yet know how much it will cost to repair the window and replace the laptop. As a 501(c)(3) nonprofit organization, HALO welcomes donations from the public to help care for the homeless animals at their shelter.
The smashed front window

The $100,000 Challenge... about to begin!

Remember back in April when we asked you all to vote for HALO every day for two weeks? Well, thanks to your help...
We are now official contenders for the big prizes!
The $100K Challenge is a competition that inspires shelters and their communities to come up with innovative ways to save at least 300 more dogs and cats within a three-month period than were saved during the same three months the year before. And by participating, HALO could win between $5,000 and $125,000 for the animals! Our staff and volunteers are excited to take a shot at saving more lives than we ever have before.
The challenge runs from August 1st until October 31st. We have to save 1,287 dogs and cats during those three months to qualify for any prizes, but we hope to save even more!
How can you help? The same way you can always help us save more lives... Adopt, Volunteer, Donate!
We just need to ramp it up because during these three months, not only will we be saving lives, but we will be qualifying for cash prizes to use towards the animals' care!
The first two things we have coming up in order to help increase our adoptions are:
Stay tuned to hear what else we're doing to save more lives during the $100,000 Challenge!
Baron
Baron's adoption photo
Baron came to HALO because he was in danger of being euthanized for being lethargic and emaciated. As soon as he came to HALO we immediately started him on a high dose of TLC. With gentle love, walks, comfy beds, toys, and of course plenty of food, he came around fast. You can see in his photo (above) from when he was up for adoption that he was still a little underweight, but well on his way to being a normal dog. His eyes seem to say, "I'm feeling much better these days... now all I need is you!"
A couple weeks later, a very nice girl came in and fell in love with the little guy. She took him home and he became fast friends with her other little dog. Here's the wonderful note she sent to us:
"I adopted Baron earlier this month and I am so in love with him. He loves his friend Eminem and Eminem loves him right back, always cleaning his ears and his underarms (lol). Loves to be in close contact with me whenever possible. I would estimate he's gained close to two pounds so his hip bones aren't showing anymore and he is starting to look more muscular. I take the boys to a park at least four mornings a week for two to three mile walk/jogs. He likes to stretch out under trees while Eminem rolls around."
Here are a couple photos of Baron in his new home. Thanks to people who Adopt, Volunteer, and Donate, animals like Baron get a second chance!
Baron in his new home
Lounging with his new brother
Bug A Boo
We also recently got the cutest note from Bug A Boo's adopter..
"Bug A Boo adopted us....She is so adorable. She has adjusted here like this has always been her home. She has a brother who is 15 and a sister who is nine. We truly love her so much. She is so adorable, friendly, playful and most of all a very happy cat. She gets supervised time outside in the morning, before it gets too hot. She loves chattering at the birds or chasing a bug. I hope you enjoy these photos."
Don't Forget the Big Picture...
About 96,000 animals enter the shelters in Maricopa County each year. Approximately half of them leave alive.
The other half are euthanized. These are the animals that HALO focuses on saving. We take animals in danger of euthanasia at other valley shelters and give them love, care, and medical treatment, and then find them loving forever homes.
Our resources are limited to pay for their necessary vaccinations, antibiotics, spay/neuter surgeries, etc., so we can only save as many dogs and cats as we can afford. With support from our fellow animal lovers, we can afford to save more lives.
We are at the big shelters EVERY DAY, rescuing as many animals in danger of euthanasia as we can.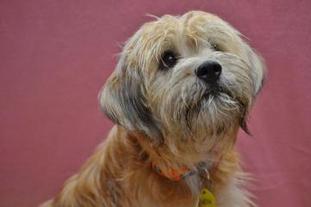 Cha Cha, one of the hundreds of animals HALO rescued this month
Adoption numbers so far for 2012 are through the roof! Last year at this time, we had 1,527 adoptions and this year we have 2,215 so far...an INCREDIBLE 45% increase in lives saved!

Thank you for supporting our mission:
Helping Animals Live On.