Macho wants to ask you for
a favor…
"Take one minute to vote for HALO!"
Help HALO Get into the ASPCA Rachael Ray $100K Challenge
The $100K Challenge is a competition that inspires shelters and their communities to come up with innovative ways to save at least 300 more dogs and cats within a three-month period than were saved during the same three months the year before. And by participating, HALO could win between $5,000 and $125,000 so that we can build a new shelter! HALO is losing it's home in 2013 and the animals desperately need this funding so that HALO can build a new shelter and continue its lifesaving work. Our staff and volunteers are raring to take a shot at saving more lives than we ever have before. That's where you come in.
The only way for HALO Animal Rescue to get into the $100K Challenge is for you – our community – to vote for us. We need a lot of votes because out of all the shelters vying to get into the Challenge, only 50 are going to be accepted, and they're the ones with the most votes from their community.
We need you to go to VoteToSaveLives.org and vote for HALO. We need you to vote often—like EVERY day! Send the link to your friends and family members and tell them to vote so we can save more lives. It takes only your passion and a minute of your time to get us into position to save at least 300 more lives this year… and to win BIG for the animals!
"I solomnly swear to vote each day. It only takes me a sec so I might as well help out."
-Kitty cat, HALO supporter
Over the next 12 days, HALO will be sending you one email per day asking you to vote. The daily emails will only be for the next 12 days, and after that things will go back to normal.
Please...
1. Help Us Out By Voting Every Day! It literally takes only one minute and it can help HALO earn a spot to compete in the challenge to win $100,000 to help build a new shelter for the animals we save from euthanasia. Vote for us every day from April 5 through April 16 at VoteToSaveLives.org
.
2. Don't Unsubscribe from HALO's Emails! The daily emails are only for 12 days, we promise! Then they'll go back to the normal twice per month.
3. To Thank You for Voting, Enjoy a New "LOLcat" (or "LOLdog!") Each Day Featuring a HALO Animal. If you're not familiar with LOLcats, here's an explanation about what they are.
Here's today's funny HALO animal, Gordon, to get us started!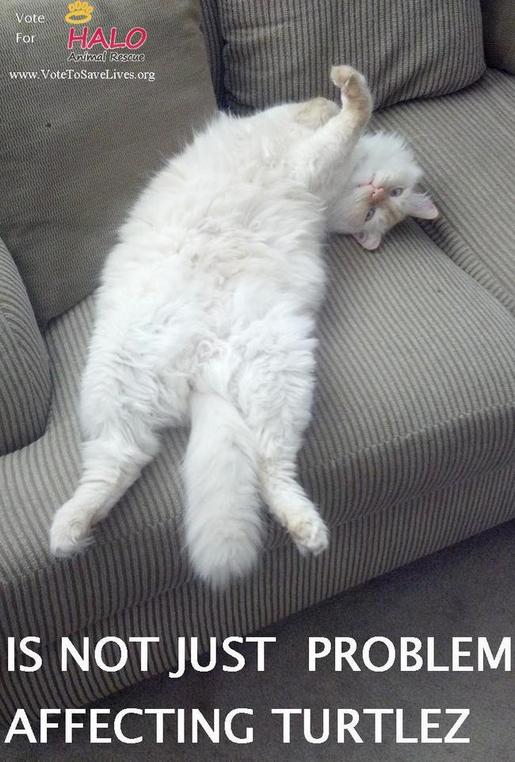 (thanks to Christine Godwin for the photo)
Please start helping by voting right now!
Thank so much for your help. We're counting on you!