To view this email as a webpage, go here
The $100,000 Challenge... has begun!

HALO is one of 50 shelters in the country vying for $100,000 for the homeless animals at our shelter

The $100K Challenge is a competition that inspires shelters and their communities to come up with innovative ways to save at least 300 more dogs and cats within a three-month period than were saved during the same three months the year before. And by participating, HALO could win between $5,000 and $125,000 for the animals! Our staff and volunteers are excited to take a shot at saving more lives than we ever have before.
The challenge runs from August 1st until October 31st. We have to save 1,287 dogs and cats during those three months to qualify for any prizes, but we hope to save even more!
How can you help? The same way you can always help us save more lives... Adopt, Volunteer, Donate!
We just need to ramp it up because during these three months, not only will we be saving lives, but we will be qualifying for cash prizes to use towards the animals' care!
Hoarding Cats Getting TLC

A few weeks ago, HALO staff became aware of a hoarding situation that had not yet been addressed by local law enforcement or by the big national rescue groups. The animals at this home are in an unclean environment, and both common and severe medical conditions are being left untreated.
Of the approximately 180 cats at the house, HALO staff originaly took in the six cats that were in the worst shape... which was all they would let us take. Without legal authority, at this point all we can do is help with as many animals as they will let us. We have now taken in 11 cats from them total.
Tulip's ear infection is all better now and is currently recovering well from her dental. Such a pretty kitty!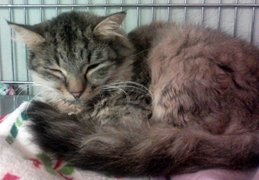 We're still treating Duncan for his ear infection (the one with the urine-stained feet photo in the last newsletter), but his teeth are nice and clean now from his dental.
Our boy Coconut, the fan of the feather toy, is doing well! He's still getting ear meds but he is so friendly and happy go lucky.

Stem is also doing much better. He's all done with his meds and his dental and ready to be adopted!
Stanley, the cat that was medically in the worst shape when we got him, was suffering from kidney failure, emaciated body condition, rotten teeth, mouth abscesses, liver failure, ear infection, and severe upper respiratory infection. We did everything we could for him, but he didn't make it. He was just too old, and too sick. We wish we could have known you longer Stanley. You were a sweet boy.
The authorities are now involved, and we are in the process of working with them to try to get these animals some help. Although HALO is not big enough to save them all at once, we are hoping the authorities will agree that it is time to get a large national rescue group involved.

In case you missed it, here's the news story about the break in on Monday, 7/23... the third theft this summer at HALO:
AZ Family News Story (with Video)
Thanks to the wonderful security guards who work for our neighbor, Grand Canyon University, authorities apprehended a suspect.
And thanks to all you amazing and wonderful animal lovers, we have a replacement laptop and the window is repaired. We truly appreciate all of you for being there for us, so we can continue to be there for the animals.
The fixed window

Some of you have been asking us lately... "I want to go shopping for HALO... what should I get for the animals?"
Well now it's super easy to get everything that our little guys at the shelter need and have it mailed directly to the shelter! HALO now has its own wishlist on Amazon.com. Collars, dog bones, office supplies, cleaning supplies, latex gloves, cat toys, you name it!
"Whoever told you guys I wanted eight toys in my kennel greatly exaggerated my playfullness. Try the kittens next door."
If you'd like to go on a shopping spree for the animals, we would greatly appreciate it!
Want us to do the choosing of which stuff the animals need the most? Help the animals with a monetary donation instead.
Faith
Faith
Faith, her mom Canali, and her brothers and sisters were all in danger of being euthanized because Faith and her siblings were too young to be put up for adoption. HALO couldn't let that happen to this sweet little family.
Canali and her puppies (Faith is one of the little guys back there!)
We took them into our care so that Faith, her siblings, and her pretty momma could get all the love and care they needed as the puppies grew up. A few weeks later, they were all happy, healthy, bouncing puppies ready to find their forever homes. HALO sent them off to be spayed or neutered. We were happy that these guys would go home soon.
Although her mom and brothers and sisters went up for adoption, Faith came down with a severe case of pneumonia. She was touch and go for awhile... especially one night when we weren't sure if she would make it through. She was on intense recovery for the next two weeks with a flimsy future. She never lost faith though, and was so sweet through it all.
Soon enough, she was fat and healthy again, and just a couple days ago she was adopted! This amazing girl was so inspiring to us. Congrats on your bright future in your happy new home, Faith!
Faith with her new mom and dad
Thor and Loki
Thor looks like he's hissing, but he was actually just mid-meow

We all know what happens to most stray cats that end up in the shelter system. We wish we could take in all the stray cats that people bring to us so that they would never end up at one of the open-admission shelters where their lives are in danger. But we usually have to say no, because we simply don't have any room to care for them.

But when a volunteer of ours brought in these two puff balls she had found running loose in the street, we just had to pop up an extra kennel for them.
These two crazy kitties are such hilarious little balls of fluff that love to romp around and pounce on each other. They're going up for adoption either this week or next week, as soon as they are big enough to get fixed.
Want to see a cute video of Thor and Loki playing in the cat managers' office? Well there's one posted on HALO's Facebook page so go check it out!
HALO Shelter Closed Aug. 10th-12th

HALO's Shelter on 35th Avenue and the treatment space at MCACC's facility will be CLOSED to the public on Friday, Saturday, and Sunday this weekend (Aug. 10th-12th). We're all running around like crazy for the adoption event that weekend.
So if you want to adopt, come to the event instead! Thank you and sorry for any inconvenience.

Don't Forget the Big Picture...
About 96,000 animals enter the shelters in Maricopa County each year. Approximately half of them leave alive.
The other half are euthanized. These are the animals that HALO focuses on saving. We take animals in danger of euthanasia at other valley shelters and give them love, care, and medical treatment, and then find them loving forever homes.
Our resources are limited to pay for their necessary vaccinations, antibiotics, spay/neuter surgeries, etc., so we can only save as many dogs and cats as we can afford. With support from our fellow animal lovers, we can afford to save more lives.
We are at the big shelters EVERY DAY, rescuing as many animals in danger of euthanasia as we can.

Bowie, one of the hundreds of animals HALO rescued this month
Adoption numbers so far for 2012 are through the roof! Last year at this time, we had 1,611 adoptions and this year we've had 2,312...an INCREDIBLE 44% increase in lives saved!

Thank you for supporting our mission:
Helping Animals Live On.