Does HALO Have a New Car Yet?
As most of you have heard, HALO was robbed a few weeks ago. One of the vehicles we use to transport the animals was stolen.
Our ability to transport the animals is crucial to our mission of saving their precious lives. Not only that, but in stealing the truck, the thieves smashed down the dog play yard fence.
The smashed-down fence
Original news story (with video):
http://www.azfamily.com/news/local/Thieves-target-animal-rescue-group-147686025.html
Adams Fence repaired the damaged fence for us at no charge out of the kindness of their hearts. Thank you so much to Adams Fence for helping us get back on our "paws!"
The vehicle's loss was a blow to the speed at which we can continue our lifesaving work. Without enough vehicles, adoption locations sit empty and animals have to wait to get to their checkups.
Before the truck was stolen, HALO was actually already short by one vehicle and had been applying for grants for another one.
That means that after the robbery, HALO was in need of TWO vehicles. But thanks to our supporters...
We now have a new vehicle, and one more new one on the way!
Well they're used, but they're new to us and oh so amazing! Here they are...
Car #1
The first car is a Honda CRV that we are currently in the process of buying, donated collectively by all of you guys who made donations towards the purchase of a new car for the animals, and one donor (SuSu Levy) who gave a big last-minute donation to help us reach the amount we needed! The photo below is what 2006 CRV's look like. We will put a photo of the car on Facebook as soon as we get it, so make sure you're a Facebook fan to see it! www.facebook.com/HALOResqQ Thank you all for helping us get what we need!
2006 Honda CRV
Car #2
The second car is a Suzuki XL-7 donated by an anonymous donor's two HALO doggies. What a generous and amazing gift!
2005 Suzuki XL-7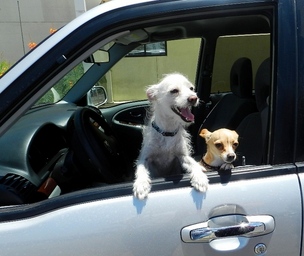 HALO doggies Weeee and Me Too Dropping off their donation
Thank you all for your support during HALO's time of need!