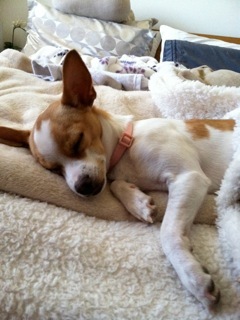 This is Justice, a dog that HALO saved in October of 2011. She was in danger of being euthanized for having a cough and a runny nose. We couldn't let that happen to this sweet girl. After a few weeks of TLC and some antibiotics, she was right as rain and ready to go to her new forever home.
Justice's new mom sent us the sweetest email, so we thought we'd share it with all you HALO fans. Her story and its happy ending are the reasons we all do what we do for our furry friends!
"I adopted Justice (now named Zoey), a one-year-old Chihuahua mix from the HALO shelter on Thanksgiving weekend of 2011. I had made two trips out there from Tempe. I also went to another shelter, but I knew that Zoey was "the one". She has been the sweetest, most playful, smart, and lovable little baby girl. I'm so glad that I got her I was so worried that someone else had adopted her before I arrived the second time to take her home. Everyone at HALO was kind and caring. I have only good things to say about them."
Sincerely,
Crystal (Zoey's mom)