Meeting this sweet and mellow girl, you would never be able to tell all that she's been through. We took Paria into our care because she had been scheduled for euthanasia for temperament issues. She had barked in her kennel in a threatening way. Because many dogs that find themselves in a shelter are simply scared and trying to defend their limited personal space, that behavior is very common in shelter animals.
HALO evaluated her temperament and she passed with flying colors. She has been nothing but sweet ever since we took her in.
Unfortunately, Paria experienced rare complications from her spay surgery. Not long after the surgery, her body formed a blood clot which lodged in her spine and caused paralysis in both of her back legs. She was also anemic, and was treated with steroids, IV fluids, and pain meds, and received the highest quality vet care from the amazing vets at Companion Pet Clinic. Our staff and volunteers gave her lots of TLC and love as she recovered.
Often a volunteer would lie next to her in her big kennel, to snuggle her gently and pet her. She regained use of one of her back legs, but not the other. It had to be amputated, and she has recovered very well from the surgery. She is now healthy and happy, and is available for adoption.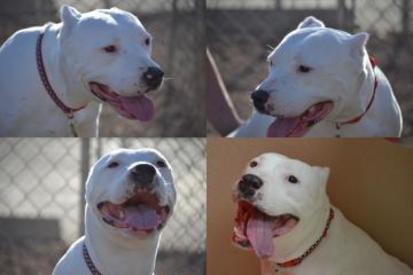 Paria has been the most wonderfully loving dog throughout her recovery, never complaining, and always wagging her tail with a smile on her face. She is an inspiration to everyone here at the shelter!
We hope she finds a home soon! But until then, we are happy to continue to care for a peach like her.
Thank you to PACC911 and Companion Pet Clinic for helping with the cost of Paria's medical care!
If you would like to sponsor one of HALO's animals, go to our donation page and write "Sponsor (Animal Name)" in the comments box.