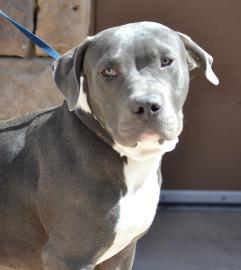 Here's the deal.
About 100,000 animals enter the shelters in Maricopa County each year. Approximately half of them leave alive.
The other half are euthanized. These are the animals that HALO focuses on saving. We take animals in danger of euthanasia at the Arizona Humane Society and at Maricopa County Animal Care and Control and give them love, care, and medical treatment, and then find them loving forever homes.
Our resources are limited to pay for their necessary vaccinations, antibiotics, spay/neuter surgeries, etc., so we can only save as many dogs and cats as we can afford. With support from our fellow animal lovers, we can afford to save more lives.
We are at the big shelters EVERY DAY, rescuing as many animals in danger of euthanasia as we can.
Will you help us save one more animal tomorrow than we did today?
With automatic monthly donations to HALO Animal Rescue, you will provide steady support for the animals who we've saved from the danger of euthanasia, in a way that is the convenient for you.
Join at the $25 per month level and receive a free t-shirt so you can show your HALO pride wherever you go!
Please earn your wings and sign up for automatic monthly donation to the animals today.
How do I join the Angel Club?
or
Call Shelly at (602)971-9222 ext.110 with your card info to get set up
________________________________________________________________________________________
Thank you for supporting our mission:
Helping Animals Live On.