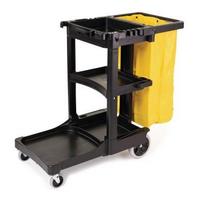 We need two cleaning carts!
We are collecting donations to purchase two of these carts for the cat section.
Every morning, each animal's kennel is thoroughly cleaned and they are given food, water, fresh litter, a clean bed, toys, and love too, of course!
As of now, the cat staff and volunteers have to walk back and forth between where the food is stored, back to the sink, back to the kennel, to and fro over and over. The morning cleaning would be much quicker with a cleaning cart to keep the supplies close at hand. Each cart can hold the fresh food, clean litter, cleaning products, and other supplies the animal care staff and volunteers need to do the job. The faster they can clean, the more efficient we are and the more animals we can save.
If you would like to contribute to the cleaning cart fund so we can speed things up,
make a donation towards the carts fund online
(write "cleaning cart" in the Comments section)
(If we are lucky enough to receive more than the cost of the carts, any remaining will go toward the cost of medication, vaccines, and other necessities for the animals!)
Thank you for supporting our mission of Helping Animals Live On.