To view this email as a webpage, go here
When Ivory arrived at HALO, she was in bad shape. She had been found tied up outside a convenience store and a Good Samaritan brought her to HALO. The first thing we saw was the dog bone. It was a hollowed-out marrow bone, threaded onto her jaw like a bead on a string, which had gotten firmly caught and stuck there behind her canine teeth. Judging by the smell coming from her mouth and the cuts the bone was causing on her lips, the bone had likely been there for a few days. With the bone in place, poor Ivory was not able to eat or drink because she couldn't close her mouth all the way and her tongue could barely move. Maybe her owner had given the bone to her as a treat, and then when it got stuck, didn't want to deal with it. She was drooling, lethargic and not happy. But she was not defensive or aggressive at all, just completely sweet and calm.
Despite how uncomfortable it must have been to move her mouth, as she sat on the lap of one of our staff members, she gave her a little lick. That's when we knew what a sweetheart she was, and that we just had to help her.
The first thing we did was remove the marrow bone so she could move her mouth freely. Then we sent her to the vet to be spayed. The vet discovered that Ivory had severe pyometra, an infection of the uterus. Due to her breed, it's possible that she was intentionally bred. If Ivory had not gone to the vet when she did, it's likely she would have died of the infection.
After her surgery, she was vaccinated, dewormed, and microchipped just like all of HALO's animals and went up for adoption.
She didn't have to wait around for long! A wonderful couple (who have adopted another dog from HALO before, an chubby Chihuahua named Crouton) came by the shelter to see the dogs and fell in love with Ivory. Now Ivory is heathy and happy with a great future.
Thank you for your amazing attitude, Ivory! You're our inspiration this week.
My Sister's Closet - A Big Fat Thank You!
"Hello, dahlings! This is Giselle Bundchihuahua again, with a little inside info about designer clothes shopping in Phoenix. I have found the most fabulous boutique called My Sister's Closet. Now of course I myself can find no reason to pay any less than a bajillion dollars for my fancy outfits, but I know some of you prefer your luxuries to be more reasonably priced. So I thought I'd give you my highly valuable advice now, so the night before HALO's Hummingbird Home Tour I don't have every couture-obsessed diva in Scottsdale breaking their nails banging on my door."
"I might add, charity is oh so trendy at the moment, and My Sister's Closet is certainly in on the action. They do quite a lot to help the less fortunate chihuahuas (and the other animals, too) at HALO Animal Rescue."
"My personal assistant will now tell you give you the human perspective. Ciao for now!"
My Sister's Closet is the crème de la crème of designer recycled boutiques.
These days, even the trendiest of us are looking for ways to cut back a little on our spending. We can't be expected to stop loving Louis Vuitton, St. John, Prada, Pucci, Chanel, Armani, Gucci, Hermes, Juicy, Vivienne Tam, True Religion, Antik Denim, Milly and Nanette Lepore, right? These brands and more are available at My Sister's Closet, and everything is 60%-95% below retail. And the fun doesn't stop at your closet! Well Suited is the My Sister's Closet of men's clothing and My Sister's Attic has an array of high-quality home furnishings.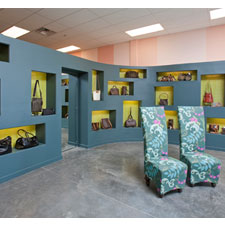 My Sister's Closet supports HALO's Thrift Boutique by donating lots of high quality, brand name items to sell (all proceeds from the HALO store go towards the life-saving work at the shelter). They also support HALO with generous monetary donations, which help HALO keep the dog and cat adoption fees as low as possible and pay for spay/neuter surgeries, medical care, etc. for all of the homeless animals.
Thank you to My Sister's Closet for all of their support!
Ever heard of Groupon?
Doozy of a Deal is just like Groupon, except it's LOCAL, and it helps HALO, too!
Doozy of a Deal is a deal-a-day website which delivers 50% -90% savings from local businesses. You will find deals to restaurants, spas, activities, and many other local shows and attractions.
The great thing about Doozy of a Deal is that they GIVE BACK 7.5% of every purchase you make to our organization.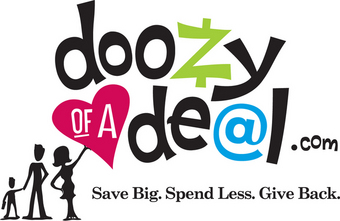 Signing up is FREE, so all you need to do is visit the website www.doozyofadeal.com/phoenix and sign-up, making sure to select HALO Animal Rescue as your benefiting organization. Then, you will start receiving daily emails, alerting you of the particular deal of the day. If you happen to like the deal, you simply make your purchase on the site, and Doozy will automatically "Give Back" 7.5% of your purchase to HALO Animal Rescue. It's that simple.
Not only do you get to save 50%- 90% on the goods and services that you want and enjoy, but you will also be helping out our fundraising efforts.