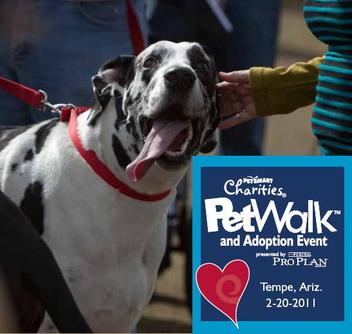 Here Come the Dogs!
This Sunday, HALO is participating in the PetSmart Charities PetWalk 2011
at Tempe Town Lake.
Why You Should Come to the PetWalk:
1. Show off your dog (dress him or her up in a funny costume if you want, and maybe win a prize!)
2. Meet other animal lovers ("What a beautiful Maltese. By the way, are you single?")
3. Get free goodies
4. See the Purina Incredible Dog Agility Team Perform
5. Dog Costume Contests
6. Kids Activities
7. Adoptable Dogs from HALO and AAWL
That's right, HALO Animal Rescue and the Arizona Animal Welfare League have been chosen to have adoptable dogs at the event. We will have all sorts of breeds and ages, so if you're looking for a new family member, stop by Tempe Town Lake this Sunday between 10:30am and 2:30pm.
Reduced Dog Adoption Fees for Sunday range from $50-$150
Will Dolly be adopted at the PetWalk?
Want to Walk the Walk?
There's still time to register and join HALO's team. We need all the help we can get! Walk with your pet and help save the lives of homeless animals.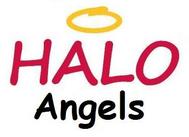 Join our team!
Becoming a part of our team is easy! The first step is to register online on our team page. Once you've registered, you can set up your own personal fundraising web page for the PetWalk to start raising much-needed money for homeless pets.
Raising funds is as easy as asking around with friends, family, and coworkers, or even just sending out an email! Our goal for each team member is $100, but if you raise more than that, we will be awarding the three team members who raise the most with fabulous prizes!
If you can't join our team, will you support us by making a donation to the HALO Angels? Visit our team page to check us out, or go here to make a gift to our team now.
All of the money raised by the HALO Angels team will go directly to the life-saving work of HALO Animal Rescue.
Come join us! It's going to be a great time for you and your primped-up pooch.
(Don't forget to stop by HALO's booth and say hello!)