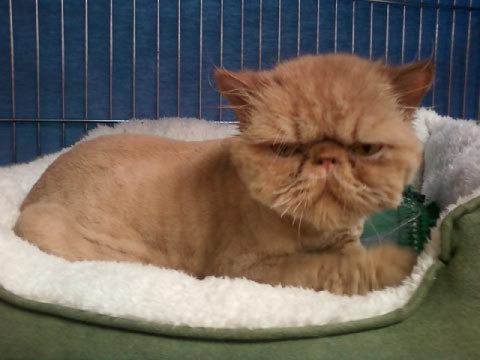 Hi there, my name is Clyde. When I arrived at HALO, I was not in the best shape. My long pretty orange fur, once my pride and joy, was so matted that I could barely walk. My ears hurt and itched. I was miserable!
Thank catnip for HALO. They took me in and shaved away all my mats, so although I may look a bit…undignified…at least I am comfortable and can move freely! They treated my ear infection, so I'm healthy. You may not be able to tell from my typical Persian facial expression, but now I'm very happy, too.
Now I am looking for my forever home and a lifetime of love. My lovely fur will grow back and I will be an even more handsome cat. My beautiful coat will need to be brushed regularly, and I sure understand how important that is! I love to have my chin rubbed and I go crazy for catnip. I would love to be an inside-only cat so that I can stay safe and clean, with lots of toys and a scratching post. I have tested negative for Felv/FIV and have been vaccinated, dewormed, microchipped, and neutered.
Would you like to take me home today? HALO has given me the honor of the title "Cat of the Week" to help me find a new home a little faster. I'm just hoping my new home has lots of toys!