Hi, my name is Dozer!
Since you are all such fans of HALO and do so much to help their work, I wanted to tell you my story and how HALO has helped me.
HALO took me in from the county shelter when I was a younger dog. It's hard for me to remember way back then, but I do remember being very happy to come to HALO. It was great being played with, being walked, and having a nice warm place to stay. I was really excited when I was adopted by a nice family! My family took great care of me, taught me all my manners, and loved me very much. Sadly, they lost their home and were forced to move to an apartment. They tried to find one that would let me come along but, because of my size and breed restrictions, they were not able to.
Thankfully, we found that HALO is always there for their dogs, even years later. My family brought me back to HALO, and now I am looking for my new forever home. I was sad that I had to part with my human family, but I knew that HALO would take good care of me. After all, some of my earliest and happiest memories are of being here, playing with the other dogs and getting lots of love from the staff and volunteers! HALO has always been my safety net.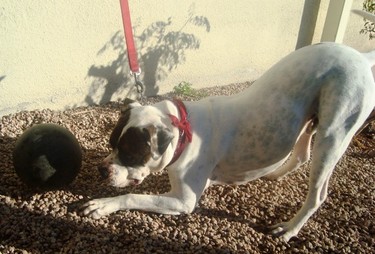 That's my life story so far, but I know what you're thinking. What about the bowling?
Well, let's just say that I am the best bowler here at the shelter! The other dogs don't even seem to know how to play with a bowling ball, let alone wield one as skillfully as I do! I tire myself out chasing it and batting it around the play yard.
Some might say that I'm just nosing the ball all over the play yard like a "crazy dog." Well, I think those people are just jealous! Why, I even saw a staff member smiling from ear to ear while she took a video of me. I think it was because I am so talented! Now if they'd just give me a few bowling pins…
See the Video of Dozer and His Bowling Ball
Help HALO continue to be the safety net for thousands of dogs in our community.